Happy Halloween!
Here's a quick rundown of what's new:
Stock Ticker


I added a new stock ticker at the bottom of the main screen. This is a good way of keeping up with changing prices for each company over the course of the game.
New Companies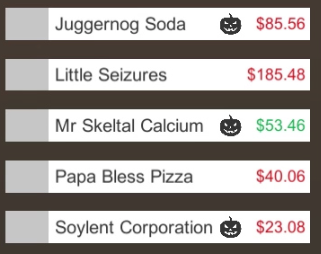 New Halloween themed companies have been added and can be recognized by the pumpkin icon located beside the name. Hope you guys enjoy these!
Market Events


New Halloween themed events that impact the entire stock market. This is a feature I always wanted in the game, and adds challenge to playing the market because in addition to company specific news stories, market events will also impact the stock prices.
Steam Sale


During the Halloween Steam Sale our game is
40% off
!! The sale ends soon so pick it up
here
if you're interested.
UI changes/improvements and Halloween Theme